As part of its Bus Service Improvement Plan Devon County Council is currently consulting on introducing a bus gate on New North Road to provide a more direct route to the city centre for buses traveling from Cowley Bridge to Exeter Bus Station.
Bus gates are sections of the highway which allow the passage of buses and prohibit vehicular traffic (except for buses, emergency vehicles, cycles and certain other exempt classes of vehicle).
If implemented this would stop buses coming down Longbrook Street and turning into York Road. Instead they would travel along a new but very short one-way section between the junction of Longbrook Street to the Sidwell Street/High Street crossroads outside John Lewis currently open only to cyclists. Ironically this is exactly what the former Exeter St James Forum advocated back in 2011 when at the bidding of the new John Lewis store that section of the road was closed to eastbound traffic.
This is entirely consistent with Policy T2 of our Neighbourhood Plan:
T2: Through traffic Design and highways proposals that mitigate the impact of through traffic within St James will be supported. Proposals as appropriate to their scale and location may include; a) traffic management measures to minimise the impact of traffic on residential and community streets; and b) signage to direct through traffic away from and around St James.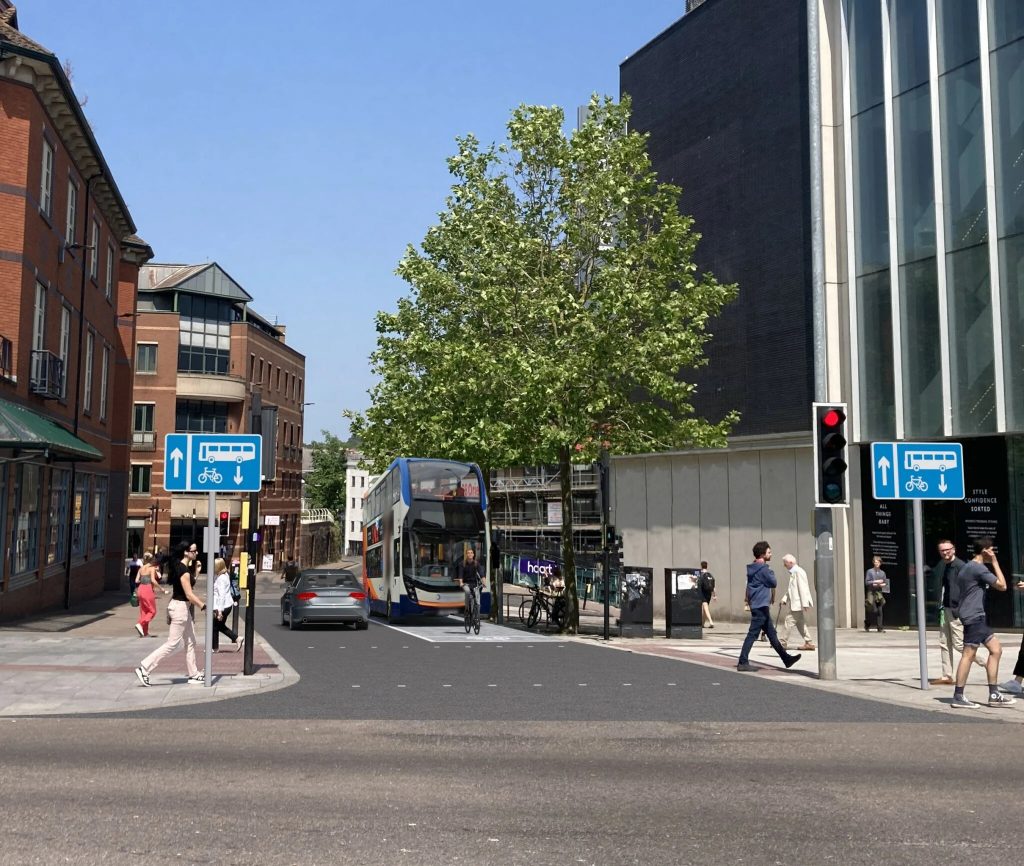 An impression of what is proposed. Picture courtesy of DCC.
Although the main thrust of DCC's proposal is to improve bus passenger experience and cut journey times it would also help reduce noise, vibration and importantly — given the location of St Sidwell's Primary School in York Road opposite Queen's Crescent Garden — reduce air pollution. A great shame then that proposals don't go as far as re-routing HGVs as well. Why not make such a comment when responding to the DCC survey?
The consultation is now live and runs until 14 August. Background to the proposals and access to the online survey can be found on the DCC website here.