The Background
Exeter St James Community Trust is a spin-off from the successful Exeter St James Forum (2011 – 2022). A 91.6% Yes vote in the May 2013 referendum endorsed Exeter St James Neighbourhood Plan (view here). Created by the Forum it was the first ever urban Neighbourhood Plan to be adopted by its local authority in the country. The map below indicates the area coterminous with the ward boundary at the time.
The extensive local research and consultation which was undertaken in order to write the Neighbourhood Plan identified projects which the community would like to see undertaken – first and foremost of those potential projects was the wish that Queen's Crescent Garden be improved.
In order to undertake projects, St James Forum needed a 'body corporate' which could take them on. The Forum itself was not sufficient to take on the lease for Queen's Crescent Garden once the City Council had compulsorily purchased it. To this end Exeter St James Community Trust Ltd, a Community Benefit Society, was set up in July 2014 and granted charitable status by HMRC.
Why a TRUST and shares scheme has been set up
The Trust has been set up to enable the projects identified in Exeter St James Neighbourhood Plan to be turned from ideas into reality. The initial member/shareholder investment set up the Trust. You'll help to create a lasting legacy for future generations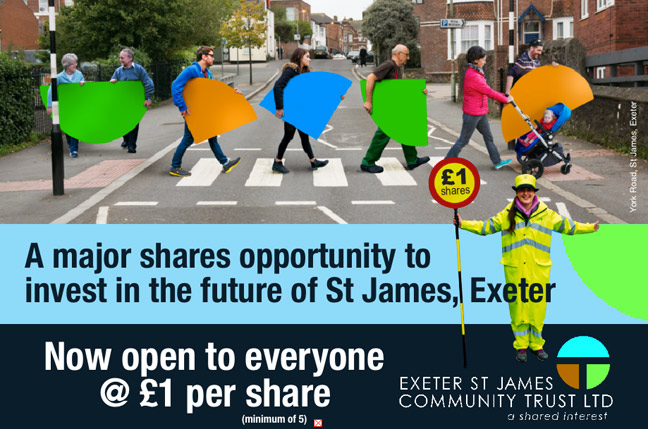 Buying & owning shares
By supporting the Trust you are helping St James to help itself to be a better place in which to live and work. The Trust's charitable status enables significant funds to be raised to achieve its objectives and aspirations.
To become a member you need to make a one-off minimum purchase of 5 £1 ordinary shares – each shareholder gets a vote at Trust meetings whether s/he had invested £5 or £500 – but you are welcome to make investment of sums larger than £5. Please complete an application form (below) and send it with your payment to our registered office 15 Powderham Crescent Exeter EX4 6DA. You will receive a share certificate.
A sense of pride, ownership and community values … a shared interest
The Trust gives St James the opportunity to create and run its very own park which has been neglected for many years. Community consultation shows us that the residents and friends of St James would like to see Queen's Crescent Garden as an airy, green space with a play area, seating, a pop up cafe and garden with volunteers working on and making it a beautiful place to visit and walk through. A QCG events programme could include an antiques fair, arts festival, Shakespeare productions, plant sales, coffee mornings, speakers – just add your imagination!
Imagine what else we might do – perhaps acquire land for community use, create affordable housing, find grants to plant trees, repair walls and railings and generally improve the appearance of all our streets.
Objects of Exeter St James Community Trust view/download PDF
Exeter St James Community Trust Ltd Rules view/download PDF
Privacy Policy view/download PDF
JOIN US!
Online here (payment via BACS transfer). Alternatively you can download, print and return an application form here.
COULD YOU BE A TRUSTEE AND HELP SHAPE THE FUTURE OF ST JAMES?
Directors are keen to hear from you if you believe you have skills or expertise that would assist the Trust Board in achieving our aims and aspirations on behalf of the local community. We are striving to make St James a better place – if you can help please get in touch by emailing us at: [email protected]